SuperAct®-99 Capsule – Best Ayurvedic Medicine For Stamina And Energy
60 Capsules
100% Ayurvedic
Trusted by millions
SuperAct®-99 capsules( trusted by millions since 2005) are blend of carefully selected and precisely blended pure and ancient herbs to create the most effective formula,  scientifically proven to improves outcomes in cases of dysfunction ( ED) in men.It is 100% ayurvedic , natural, non addictive with no side effects.
A daily routine of superact 99 capsules can help to boost your self confidence, improve satisfaction level in bed and helps to reduce anxiety.
SuperAct®-99 capsules
Trusted by millions
Benefits of SuperAct®-99 capsules
Helps in enhancing Stamina, power, and strength
Revitalizes and Supports Male Performance
Boosts testosterone levels
Helps to elevate the mood
Helps reduce anxiety
Non-hormonal formula
No side effects
SuperAct®-99 capsules are blend of carefully selected and precisely blended pure and ancient herbs to create the most effective formula , which has been trusted by more than 10 lac happy customers since 2005. The power of rare herbs in SuperAct®-99 help to increase the blood flow in the penile system giving you ultimate satisfaction.
100 % Privacy Guaranteed
Product name is not displayed

We use plain boxes
SuperAct®-99 Timing & Power Booster Capsules for Men Customer Reviews
Genuine reviews... real screenshots of actual user feedbacks
What is dysfunction(ED)?
ED is defined as the inability for a man to achieve or maintain an errection which is firm enough for intercourse.More than 60 % men have trouble at with errection at some point of age. In india more than 50 percent of men suffer from errection(ED) Problems . Male organ dysfunction also affects 18 percent of young population . incidences of ED increases as we age.
Causes of ED- this can include age factor, excessive smoking,excess intake of alochal, obesity,sedentary lifestyle,high cholesterol levels or high BP,diabetes and cardiovascular diseases.
Dysfunction (ED) can result in stress, lack of confidence and poor relationships.Studies also show that men with ED have higher risk of heart diseases, stroke or circulatory problems.
ED can be reversed with lifestyle changes and natural remedies, this can help you reduce or reverse its symptoms.in ayurveda plant extracts or herbs which in right combination can help you to treat ED.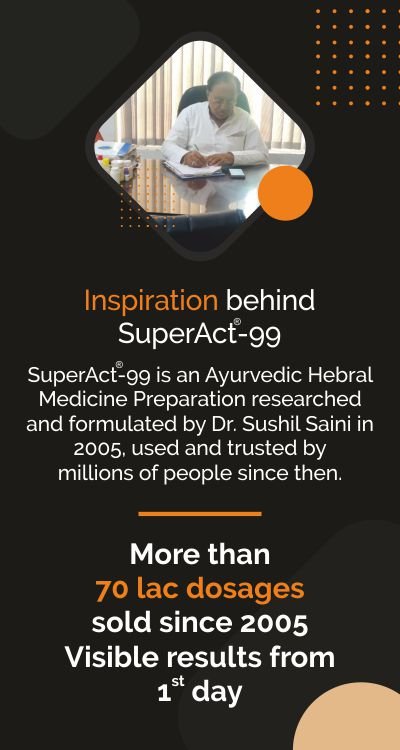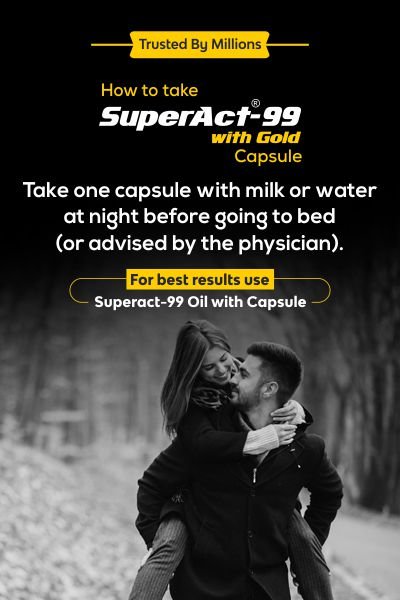 Benefit From Choosing SuperAct®-99
Our Super Achievements
Free consultation with our Ayurvedic expert.
Please fill the form below, we will get back to you soon.
What SuperAct®99 Does for You
Main Ingredients of SuperAct®-99 Ayurvedic Capsules